Tuesday 22 January at 1113 | Posted in
Humour
,
Lifestyle
,
Personal
|
34 Comments
5) Lets start with Start. The one thing that stuck out about Start, if I remembered, was the box was much smaller then the regular sized cereal boxes. It was like it was a league of its own. Possibly even some sort of "special-high energy" cereal. I was never allowed it much as a kid. This often fueled the mystery around it. Although most kids would be able to tell you all Start was, was just three Honey Nut Loops joined together.
To me it was more.
And as some keen eyers out there may of spotted, the above box – from the Kellogs site – has those really helpful nutrition guides on the box, so they must be out there.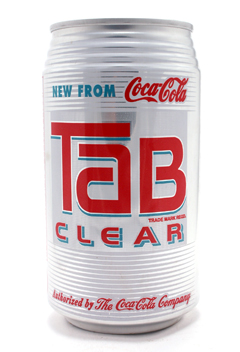 4) TaB Clear. This is a slight cheat. I never really liked TaB Clear much. I tried it a few times, but it never tasted like cola. But that was only half of the TaB Clear equation. The major selling point of TaB Clear was that it was a see-through cola. This was pretty crazy in the fizzy pop World and as any kid would tell you, cola is brown. To get a see through cola was frickin weird.
3) Weighed bag of sweets. The grand father of pick'n'mix. All corner shops I remember as a kid had shelves full of different types of sweet. You could buy any amount of any sweet. 50p of Pear Drops. Or perhaps 70p of Cola Pips. Alot of the time me and my friends would have to route through all the shelves and large jars of sweets to find the sweet we wanted that day. Sometimes you'd have a sweet in mind and spend 10 minutes moving about the shopkeepers neatly stocked jars just to find Midget Gems.
My favourites were Jelly Beans and Bon-Bons.
Of course these sweets are around, but now they can only be found in cinemas and at prices about 4 times as much as they used to be.
Just not the same.
2) Cheetos. Ok, they are just Wotsits. But they they taste far nicer. I remember the first time I had Cheetos, it was for winning the Pepsi Vs Cola Challenge. (I don't remember this day for the prize, don't think I obsess over Cheetos. I just don't win many competitions, when I do it's remembered. Also Pepsi tastes nicer, so it was pretty easy.)
When over in Spain last year they had these crisps everywhere. I think I must of gone through two large packets everyday. Just sitting by the pool with my queso crumb covered fingers. What a great time that was!
1) Ricicles. These were some of my all time favourite cereals. They were like a Frosties version of Rice Crispies.
Yes there was that one time they added the marshmallow men, ufos and creatures to the cereal but that didn't work out. I did try and eat the marshmallow shapes a few times, but ended up picking them out of my bowl.
A couple of times when we have been shopping I have told the missus about my love for Ricicles and often searched them out. She thought I was going insane a few times.
Another photo of a cereal box with those really helpful nutrition guides on the box, so they must be out there. Somewhere.
Special mention: Branston pickle. Ok technically I shouldn't include this as this product has not been discontinued. Actually you can still get Branston Pickle EVERYWHERE! Fact.
But I had a jar full of it the other day and it's gone pretty fast. I was pretty shocked as I was just starting to perfect my pickle:cheese ratio.
* although I say discontinued, I understand that some products just may not be sold in this country/shop near where I live. This is more a 'top 5 I cant find products' list.
Next Page »
Blog at WordPress.com.
Entries and comments feeds.